Books & Stories by

Edward Farber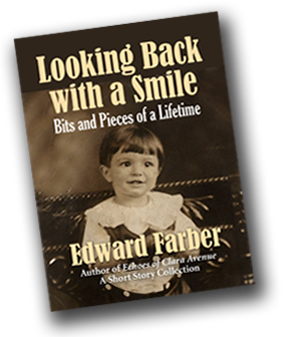 Choose Your E-Reader to Order:
"Excellent book. Brought back many good memories."

David Barrett



"A quick and fun read."


Rebecca M. Douglass
Popular ebook now on Kindle, Nook, Apple ipad, Sony Reader, Kobo, and other ebook formats distributed by Smashwords
Now just

$1.99

Order yours today!
Ed Farber's popular new ebook takes the reader on a merry romp through growing up during the Depression and wartime 1940's, the transitions from grade school to high school to college to the military and, finally, to marriage, kids and grandkids. On the way we also laugh about pets, secretaries, bugs in the BOQ, being a canine midwife, and many more incidents and observations all dished out with warnth and wit.
Read an excerpt and 5-star reviews
---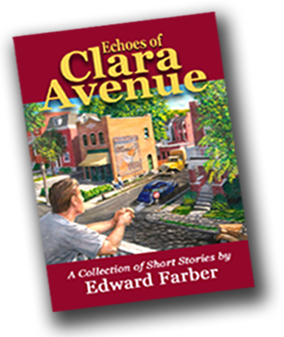 Read one of the stories:
PAPA'S HOUSE
Previously appeared in Artisan Literary Journal and the anthology Winter Harvest
Now Out on Kindle!
A Collection of Short Stories
Excerpt from the book's Introduction:
The houses along Clara Avenue are mostly empty now. For those that remain, time has done a thorough wrecking job, and a once lively neighborhood has decayed into empty, ghostly hulks. Yet, if you walk slowly along those cracked, concrete sidewalks and listen with your imagination, you might pick up faint echoes of laughter and tears—the music of life—that once filled each and every house. The stories in this volume are part of Clara Avenue's history, stories as diverse as the people who moved into the houses and flats, played out a portion of their lives there, and moved away—a constant stream emulating the continuum of life itself.
Order your copy now from Amazon