The Paintings of

Edward Farber
Music Series
A portfolio of paintings and drawings with a music-related theme.
CityScape Series
A portfolio of paintings of city neighborhoods, some reflectiing the artist's memories of his own growing-up years.
Echos of Another Time Series
Reflections of life in the villages of Eastern Europe before the Holocaust erased it forever.
Miscellany Series
Paintings and drawings displaying a variety of subject matter.
Paintings displayed in these galleries are available as giclee reproductions, on archival paper or on canvas, signed and numbered by the artist, published by Timberwood Press.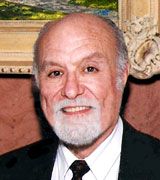 A native of St. Louis, Missouri, Edward Farber's paintings have been included in numerous exhibits at the St. Louis Artists Guild and elsewhere, and hang in private collections. One of his paintings, prize-winning "Grandpa's Back Porch" is displayed in the Missouri State Capital Building in Jefferson City after being selected by the Govenor's Conference on Aging. It also was reproduced for the cover of the State's booklet on aging.
Largely self-taught, he received art instruction at Washington University School of Fine Arts and the University of Missouri.
Once an abstractionist, he gradually evolved to his present, more traditional style.
"I use a realistic approach. but I'm not a slave to realism. Sometimes my admiration for the impressionists even peeks through, but all my work is colored by my own imagination, emotions, and experiences."