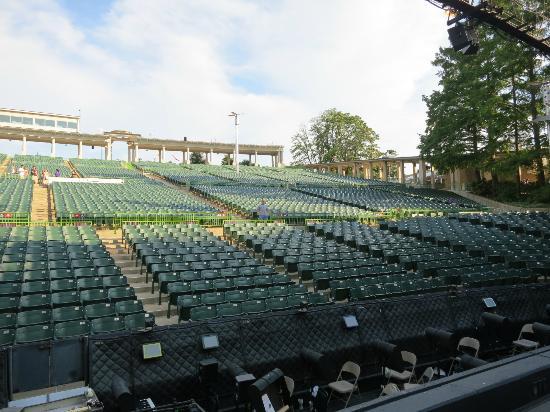 For those not in St. Louis, The Muny is St. Louis' famous outdoor theater located in Forest Park. It's been around since 1919 bringing great Broadway Musicals to the huge stage in the park. It seats around 12,000 people so it's a BIG theater.
My folks took me to a Muny production when I was just 3 months old. The Muny offered free seats on a first come basis, and since this was 1932 in the midst of the Depression, free seats were all my folks could afford. Look at the photo. Way up at the top is where the free seats were.
My Dad loved music so the Muny (or Municipal Opera) was a natural for him. Here is a list of the shows presented in 1932, courtesy of the Muny web site www.muny.org but for some reason I just don't remember which ones I saw:
Blossom Time, Blue Paradise, Cyrano de Bergerac, the Desert Song, Honeymooners, Land of Smiles, The Last Waltz, The Love Call, The New Moon, The Riviera Girl, Rose of Stamboul, and Sari
My first real remembrances of the Muny shows came a number of years later, and by the time I was a teen-ager I was a veteran theater-goer (to the Muny, of course, in the free seats.) Not always in the free seats, however. At intermission time, we adventurous teenagers would saunter down the hill around the Muny to the refreshment area and then casually walk into the paid area (by then the ticket takers were long gone) as if we had paid. Then we would wait patiently for the second act to begin and look for unoccupied seats which would soon be occupied—by us. Sometimes we were lucky enough to sit in the boxes.
Those were the days of the operetta and I still love to hear that old music from shows like The Desert Song, Naughty Marietta, The Student Prince—and all the shows that Nelson Eddy and Jeanette MacDonald made famous again later in the movies.
Many of our biggest entertainers played the Muny. Did you know that Cary Grant (under his real name—Archie Leach) played the Muny for most of the 1931 season? Bob Hope was there in 1958, Sid Caesar in 1970, Red Skelton in 1938 and then again in 1970, Lauren Bacall in 1971 and 1977, Zero Mostel (the original Tevye in Fidler on the Roof) in1976, Debbie Reynolds in 1973, 1980, and 1989 and Milton Berle in 1971. And I saw them all (except for Cary Grant) on that big Muny stage.