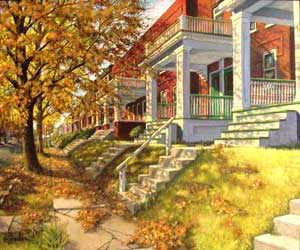 I have my art listed at FineArtAmerica for the sale of open (unsigned) prints of my paintings. http://www.fineartamerica.com/profiles/edward-farber.html
They hold contests on various themes which I enter periodically. One of the recent contests was on the theme, Old Porches. I entered my painting, A View Up the Street, pictured above. It won FIRST PLACE out of 71 pieces of artwork entered.
An interesting note about that painting. The scene is a view up the 1300 block of Clara Avenue in the city of St. Louis as it was about 70 years ago. I painted it with a mixture of acrylics and nostalgia because that was the block I grew up on. I painted it from memory because I did not have old photos of it. Recently, I Googled that block to look at a street view and most of the houses are gone, razed to the ground. The second house on the right in the painting is 1368 Clara, the first-floor flat I used to live in as a kid.
I actually painted a number of paintings of that old block because it held happy memories of my growing up years. One of those paintings, The Old Neighborhood, Clara and Minerva, is on the cover of my new book entitled Echoes of Clara Avenue, a collection of short stories about people who lived on a fictional block named Clara Avenue.
My old neighborhood had a lasting impression on me. How about your old neighborhood? How do you remember it?